Boundless enthusiasm for my work makes me want to put the endless passion for the garments I make into words and images. When worn they are like friends bringing back special moments and memories: like a second skin making me feel good and spurring me on to search for different yarns, weaves, style, volume and colour to give life and body to a constantly evolving creativity.
This is how I start…. with a pencil, a sheet of paper, a line
My world consists of yarns with all their characteristics and infinite possibilities for transformation into a wearable garment. This requires a certain ability, a refined and formal technique and rigorous commitment.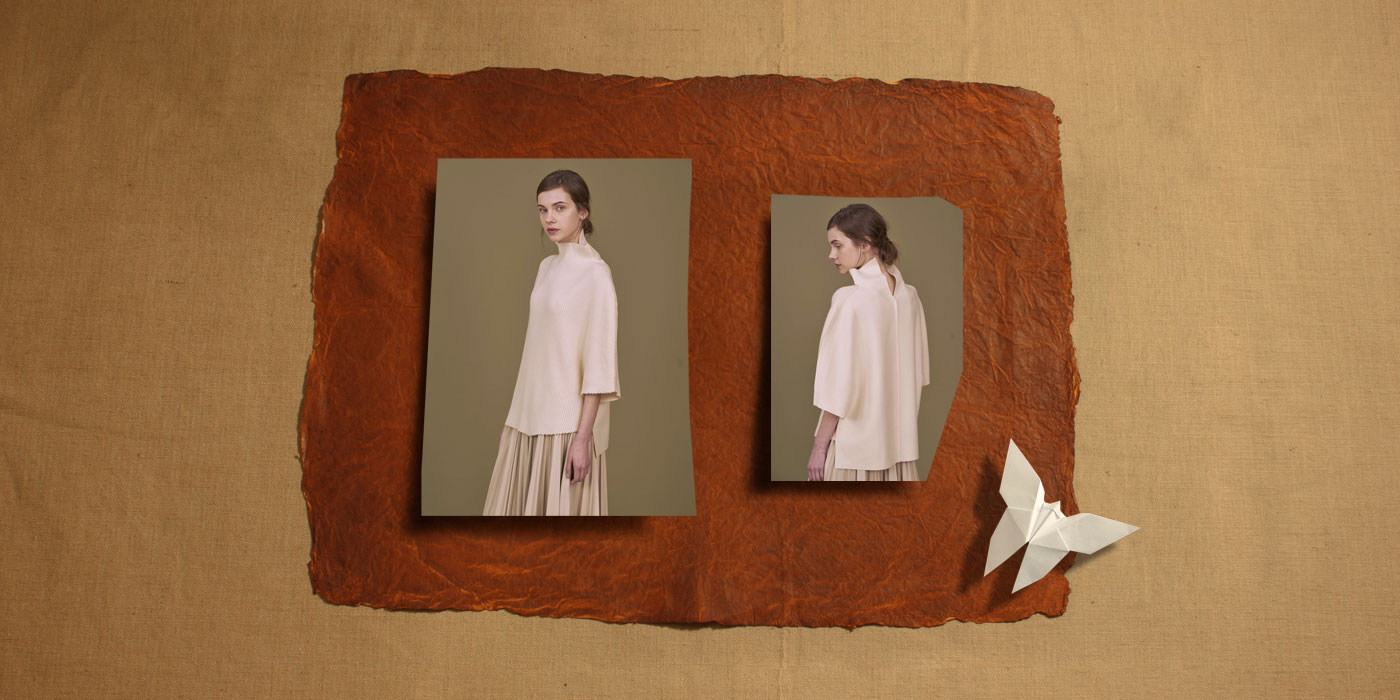 Green aesthetics; tactile sensations, aesthetic emotions, but also a project of eco sustainability; the philosophy, style and ethics of everyday life. Underwear in cotton tulle.
Natural white, cement grey, jet black, shades that enhance the minimalism of simplicity. Underwear set in 100% cotton.
An album of memories; a collection of objects, photographs arranged on a background of vintage fabric and coloured paper, telling the story of a journey still to be completed.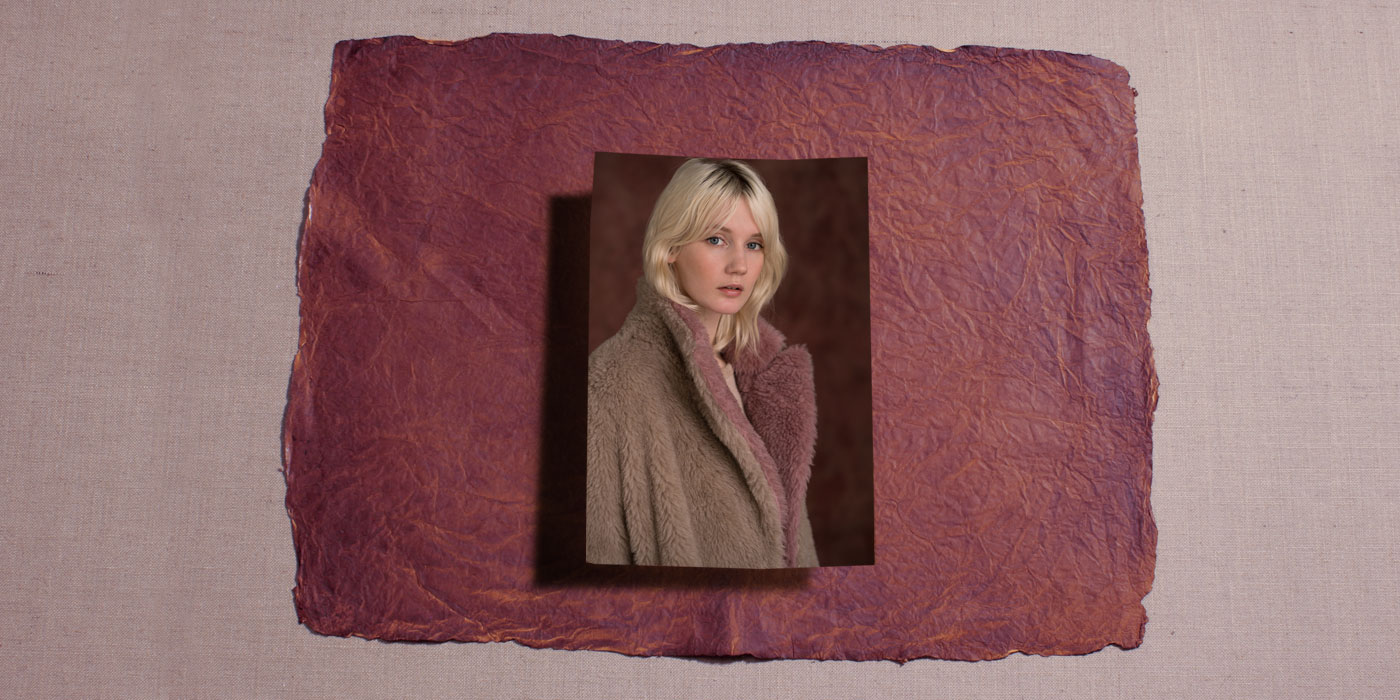 An endless passion for garments, a continual search for braids, thread, weave, style, volume and colour giving life to creative evolution.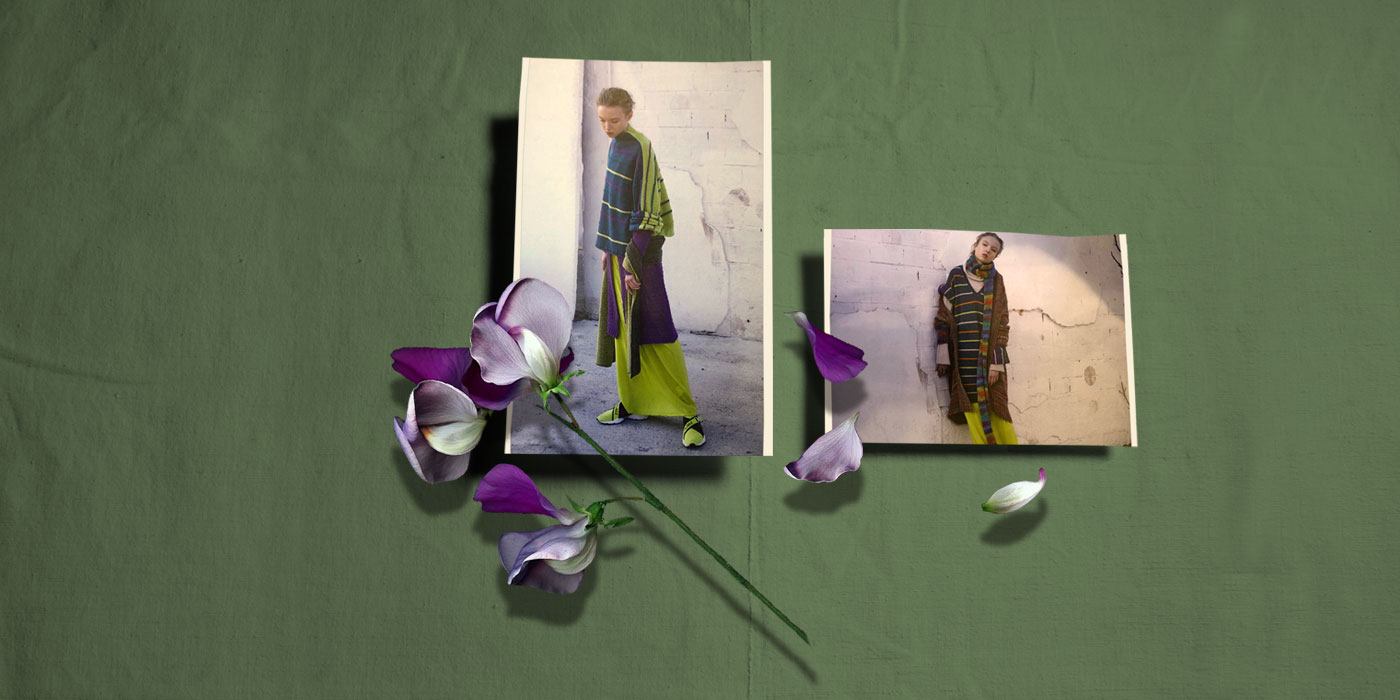 Natural yarns: jerseys in alpaca and wool, elaborate layers of shades of pink, slightly old fashioned and dusky. Cardigan/cloak in soft rubberised mohair with detachable purse and printed cotton lining.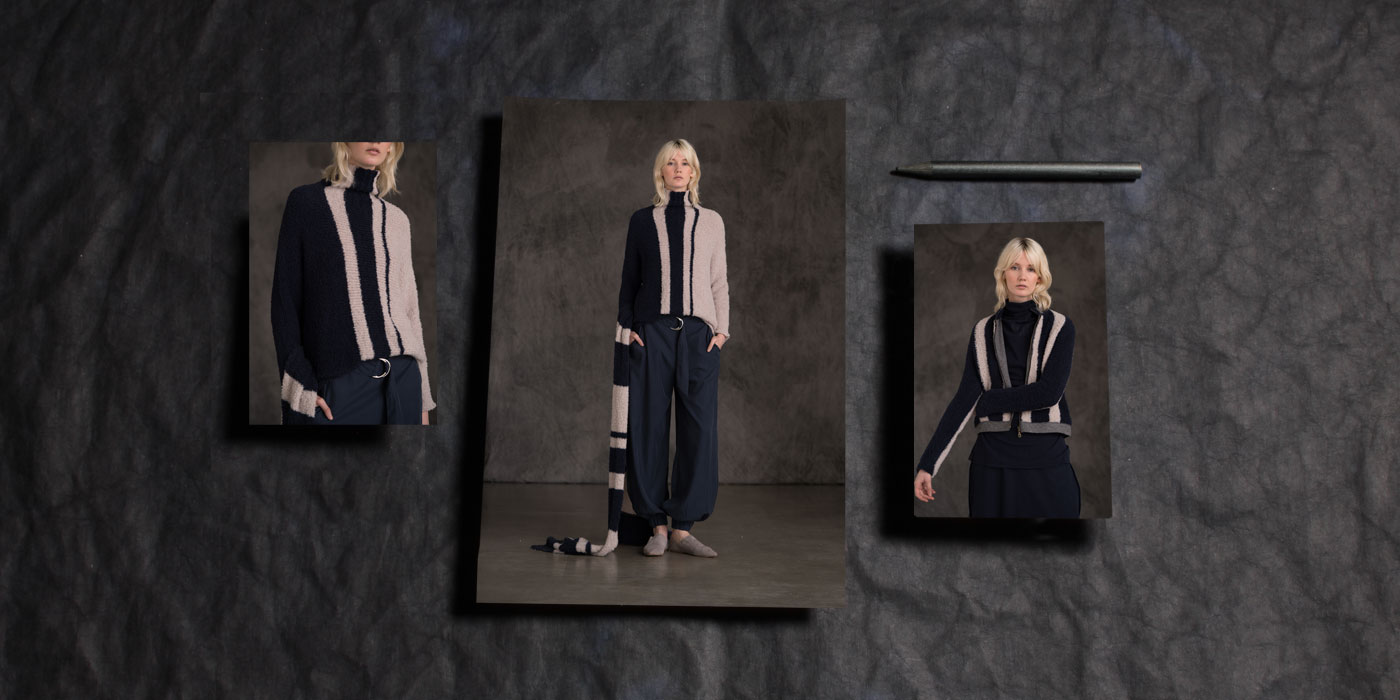 Soft and airy alpaca wools giving the tactile sensation of yarns offering physical creativity.
Cloth coat with a box pleat at the back and added details of knitted Cashmere.
Ribbed jersey with a back in felted wool 100% Cashmere.
Dress in abstract floral jacquard, two colours 100% Cashmere
Research and high quality are the soul of a vocabulary of elements and textured surfaces creating effects of light and shade; a balance within contrasts in an experimental vision.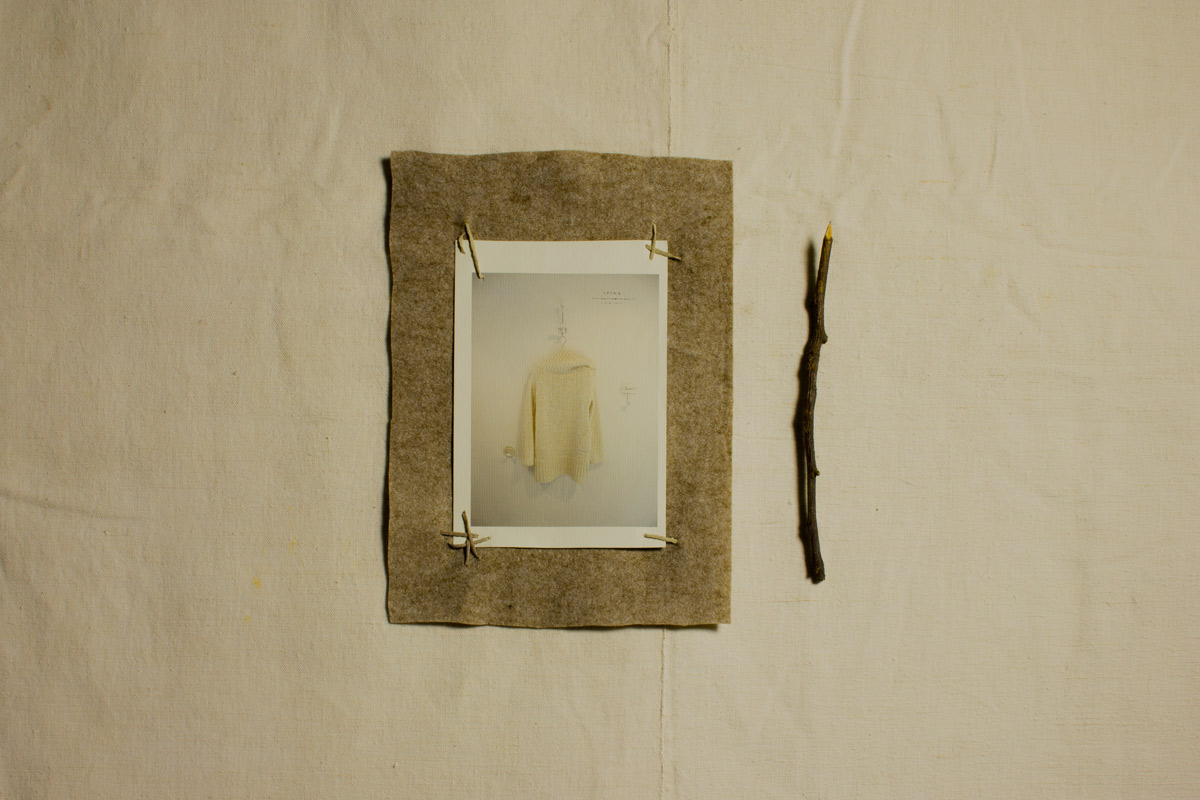 Corrosion printed photographic images on a base of shiny and opaque viscose lined with jersey or crisp poplin.
Shaped through time and nature. Countless tactile sensations of purity inspiring the imagination.
Jacket in wool and linen mix with evening jacket style lapels in sheepskin. A printed lining showing Astrid Kirchherr, the first photographer of the Beatles.
High necked jumper and skirt in Milan stitch100% Cashmere.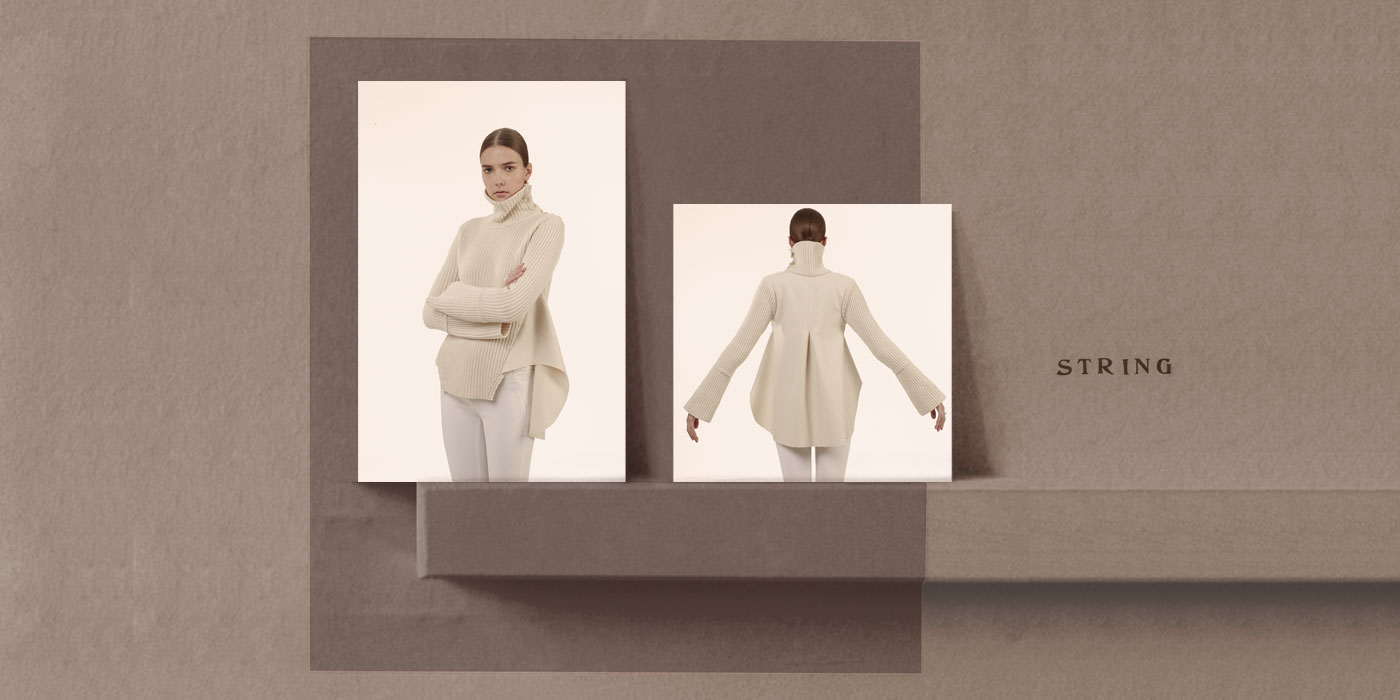 Soft jumper in 5 ply ribbed Cashmere with centre pleat.
The return of the bomber jacket with the typical rhomboid pattern of English riding jackets. 
Sections of felted fabric in 100% Cashmere.
Asymmetric jumper and cloak, details in flat rib stitch and sections in felted fabric 100% Cashmere.
Shirt in needle punched cotton poplin, giving a crisp, textured handle in contrast to the back in soft and draping modal. 
Cardigan and top in double 100% cotton tulle with contrasting edges and seams.
Lime Cardigan 100% cotton, roll neck in ribbed silk organza.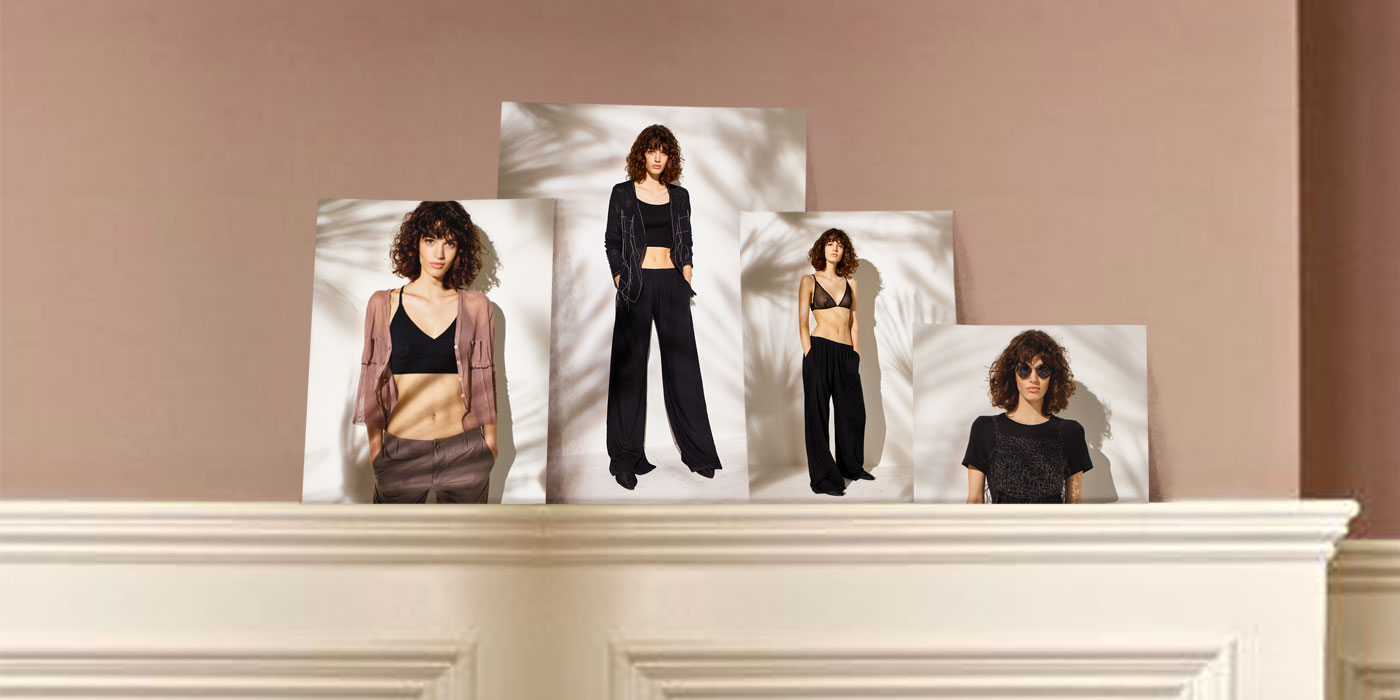 Garments in 100% cotton tulle with contrasting edging and seams, t-shirt in micro modal with bib embroidered with rubberised ribbon.
Wrap around cardigan in alpaca and wool, three colour checked pattern with fringes.
Jumper in alpaca and wool bouclé with inlays in three colours.